Well, I went in to the 3D lab on Wednesday and basically spent about 4 hours making up 10 hours of work. But I did it. The reason why it went so much faster is because I'd been through it all and basically needed to be in a rhythm to finish, it was just going through the motions. It wasn't so bad — it was more of the mind game of thinking "I already did this and could be getting AHEAD instead of playing catch-up". But I'm now at the point I should have been on Monday, which isn't so bad. The project is due a week from this Monday…which is unfortunate because there's a lot I want to do. I really want to spend a lot of time on the animation part of the project. I'm on duty next weekend, so that's to my advantage that I'm stuck on campus anyway, so I might as well go in to work on the project, rather than sit and watch TBS (which isn't all bad!). The upcoming deadline is not advantageous, but it's doable.
Also on the plus side, I won two eSIP awards, which is surprising and exciting! (Click the pictures to take you to the winning posts!)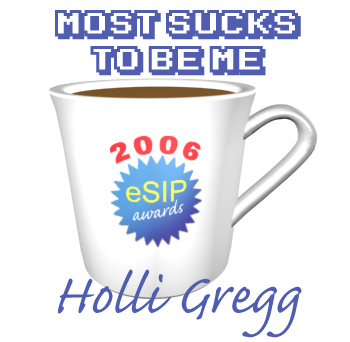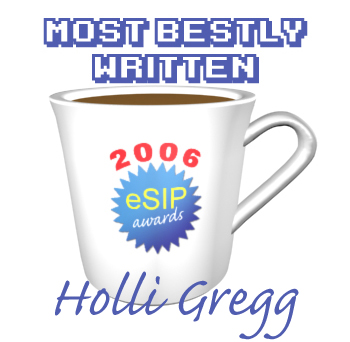 More bad news, though…I'm in Big Stone this weekend. Just kidding! Well, I am in Big Stone. But that's not bad news. Just thought I'd trick ya'll! GOTCHYA!
And it's not even April Fools' Day! GENIUS!